2014-2015 Mentorship Participants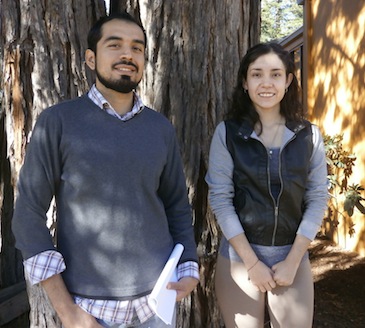 Miriam Campos is a third year LALS/Politics combined major who was raised in Woodland, California, and was born in Michoacán, México. She is a first generation college student and the daughter of farm workers. Miriam has a diverse range of academic interests, including Latin American politics with a special focus on México and the Mexican Drug War. She is also interested in the history of Latin America, Latino politics with a focus on immigration and citizenship, and how different media sources cover and portray news. Currently, she is volunteering at Plaza Comunitaria in Santa Cruz, where she is the lead student facilitator of a free citizenship and English-language class for adult migrants. Miriam plans to apply to graduate school and pursue a career in journalism.
Adrián Félix is an Assistant Professor of Latin American and Latino Studies (LALS) at UCSC.  He earned his Ph.D. in Politics and International Relations in 2010 and was a UC President's Postdoctoral Fellow prior to joining the LALS faculty.  His research and teaching focus broadly on México-U.S. migration, the politics of México, migrant transnationalism and the politics of race, ethnicity and citizenship.  His research has been published in American Quarterly and the Latin American Research Review among other academic journals.
Summary of Project
For this research project, titled "Mexican Methods: the 'Drug War,' Mexican Counterinsurgency and U.S. Control", Miriam will produce an annotated bibliography and a literature review on the emerging body of work linking the Mexican state to transnational criminal organizations.  Primary and secondary sources will be consulted to identify crime-state relations in México and the complicity of the U.S. in the raging violence of México's "drug war".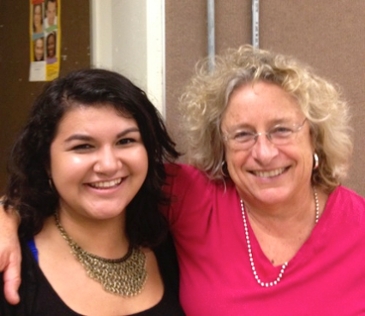 Sara Patricia Zepeda is a fourth year student hailing from Sacramento,CA. She is a sociology and feminist studies double major with an emphasis in law, politics, and social change and she's absolutely excited to graduate this upcoming spring. Coming from both Honduran and Guatemalan parents, she became interested at an early age about US immigration. She is interested in Honduran migration, focusing on the economic and political struggles of Honduras of the 1980s to the present and seeing how that shapes the demographics of those who chose to migrate and how they perceive the US to be. Following graduation this spring, she will take a gap year before applying to graduate school to further pursue her research goals.
Dana Frank is a Professor of History at UCSC, where she teaches U.S. labor and women's history, the history of the Great Depression in the U.S., and transnational perspectives on U.S. history.    Since the 2009 military coup her articles on human rights and U.S. policy in Honduras have appeared in the New York Times, Politico Magazine, Foreign Affairs.com, Los Angeles Times, Miami Herald, San Francisco Chronicle, Huffington Post, regularly in The Nation magazine, and elsewhere.   Her books include Bananeras: Women Transforming the Banana Unions of Latin America, which focuses on Honduras; Buy American: The Untold Story of Economic Nationalism; Local Girl Makes History, and Purchasing Power:  Consumer Organizing, Gender, and the Seattle Labor Movement.  She has testified in the US Congress, the Canadian Parliament, and the California Assembly about human rights and U.S. policy in Honduras.
Summary of Project
Title of Project: Human Rights and U.S. Policy in Honduras. For this project, we will closely track and analyze human rights and U.S. policy in contemporary Honduras, and use that material to produce articles for policy journals,  the popular media, and other venues.   Our sources in Honduras will include statements from government offices, reports and missives from human rights groups, faith communities, indigenous and Afro-indigenous groups, current and former members of the judiciary, trade unionists, women's groups, university scholars, and many others.  In the U.S. they will include documents from the U.S. Departments of State, Labor, Defense, and Justice; congressional reports, briefings, and testimonies;  We will also closely analyze investigations and reports  from the United Nations, Inter-American Commission on Human Rights, Human Rights Watch, Amnesty International, and many other bodies.  Our themes will include human rights abuses by U.S.-funded Honduran security forces, advancing militarization, police reform, drug policy, and the situation of unaccompanied, undocumented Hondurans entering the U.S.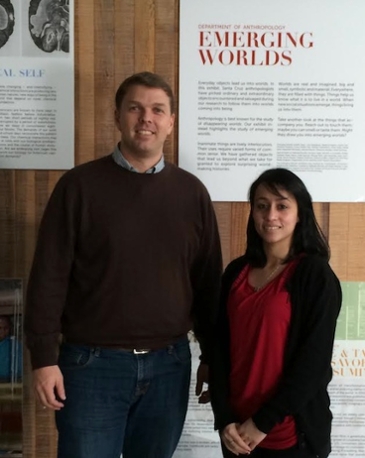 Celena Rubio is a graduating senior originally from Los Angeles. She is currently double majoring in Anthropology and History with an emphasis in European history. As an Anthropology major she has focused her studies in forensic anthropology and archaeology. She has participated in archaeological fieldwork on campus through the Cowell Lime Works project and is currently working in the Taphonomy Lab in the anthropology department. She is also a forensic intern for the Monterey Bay County Sherriff-Coroner's office. She hopes to further her studies in historical archaeology through this project and continue on to graduate school.
J. Cameron Monroe is a Professor of Anthropology. He joined the department in 2006, and has served as the Director of the Archaeological Research Center since the Fall Quarter of 2014. He has participated in archaeological field research in Armenia, Belize, Bénin, Israel, Sudan and the United States (California and Virginia). Specializing in the Archaeology of West Africa and the African Diaspora, Professor Monroe directs the Abomey Plateau Archaeological Project (Bénin) and is launching new research in Haiti. He has published numerous articles and two books, including The Precolonial State in West Africa: Building Power in Dahomey (Cambridge University Press, 2014).
Summary of Project
The trans-Atlantic slave trade unleashed deep and lasting forces on the social, cultural, and economic fabric of West African civilizations. Since 2000, Professor Monroe has used archaeological methods to examine the dynamics of social and political transformation in West Africa during this period. Integrating documentary, oral, and archaeological data, this research focuses on the nature of settlement organization, and the materiality of everyday life from the 17th through 19th centuries. Ms. Rubio will work on archaeological material collected sites in the Republic of Bénin to understand the everyday lives of Africans in this period. Her research will involve collating and organizing data from survey and excavations conducted between 2009 and 2013, producing digital maps and plans of archaeological sites, and conducting artifact analysis, all of which will be included in the final report on the project due out next year.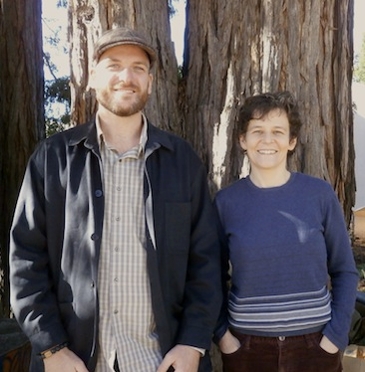 Robert Spoden is a re-entry politics senior who took to the academic life out of his desire to be part of a collaborative effort to affect positive world change. In addressing this desire, he sought to broaden his world-perspective through completing a semester in West Africa through the UCEAP-Ghana program, and while there he conducted field research on assessing the accessibility gap in primary education, and is now finishing out his senior year analyzing his findings and exploring ways this gap can be bridged by using technology.

Megan Thomas is Associate Professor of Politics, where she teaches classes on political theory.  Her book Orientalists, Propagandists, and Ilustrados: Filipino Scholarship and the End of Spanish Colonialism was published with University of Minnesota Press in 2012.  She has also written several articles in the areas of political theory and Philippine history.
Summary of Project
The research project is on the worlds of labor in the late 18th-century East India Company.  In particular, we'll be doing primary source research on some of the people who made up the military and seafaring forces of the East India Company, who came from the Indian subcontinent but also elsewhere in the Indian Ocean world--people who the eighteenth-century British resources refer to as "sepoys" (Indian soldiers trained in Western-style military drills), but also "lascars" (non-British seamen, who came from anywhere in the Indian Ocean world including the South African cape, Madagascar, and the coast of Mozambique), "topasses" (Indo-Portuguese employed by the East India Company as gunners), and "coffreys" (a term that refers to people of African descent working in specific companies of the East India Company--among other things we'll be trying to work out is whether they were consistently paid, consistently enslaved, or sometimes one and sometimes the other).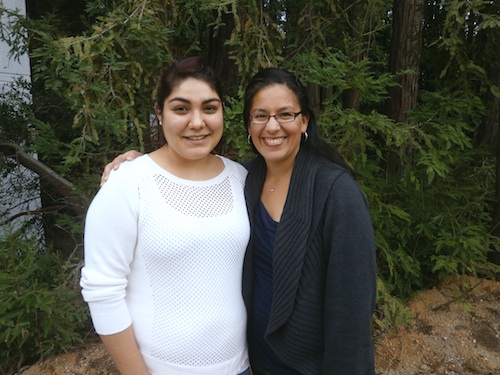 Alejandra Gonzalez is a fourth year undergraduate student double majoring in Literature and Latin America and Latino Studies. Originally from Los Angeles, Alejandra is a first generation Mexican American college student. She is currently a student program coordinator at the Chicano Latino Resource Center, better known as El Centro, on campus. She hopes to increase her knowledge and understanding of Latin America through this project. She also plans to study abroad in Brazil this upcoming Fall. 
Sylvanna M. Falcón is an Assistant Professor in the Department of Latin American and Latino/a Studies at the University of California, Santa Cruz. She joined the department in 2010.  Her research and teaching interests are in transnational feminism, human rights, racism/antiracism, Latin America, and globalization in the Américas. She is the co-editor of New Directions in Feminism and Human Rights (Routledge, 2011), serves on the editorial collective of Societies Without Borders: Human Rights and the Social Sciences, and is on the editorial board of Contexts, a public sociology magazine.  She is a former United Nations (UN) co-consultant to the UN Special Rapporteur on Violence Against Women.   She is also a former UC President's Postdoctoral Fellow and Woodrow Wilson National Foundation Postdoctoral Fellow for junior faculty.
Summary of Project
Title of Project: Human Rights and Transitional Justice in Latin America. For this project, we will collect, organize, and analyze research materials specific to Latin American countries that have undergone a Truth and Reconciliation Commission (TRC) process. In addition to the TRC of Peru (Falcón's primary research site), we will include three additional TRC sites for comparative purposes.  In addition to reviewing the TRC reports, we will also track government statements, activist reports, and media and news coverage during the release of these reports. Alejandra will also be identifying and reviewing novels and other fictional works about the internal conflicts reflected in the TRC reports.  These novels will eventually contribute to a future course on transitional justice in Latin America.
Ian Potter is a senior history major and legal studies minor focusing on the history of Asia and the Middle East.  Although born in California, Ian was raised in Washington D.C., where he plans to return following his March 2015 graduation.

Alan Christy teaches courses in History, including: Early Modern East Asia (40A), World War II Memories in the U.S. and Japan (80Y, co-taught with Alice Yang), Tokugawa Japan (150B), Modern Japan (150C), and The Japanese Empire, 1868-1945 (150D), among others. He is also the Undergraduate Director for the UC Santa Cruz East Asian Studies program. Over the last two years, Professor Christy has been the faculty leader of the student project ROUTES: Digital Humanities Learning Through Interconnected Individual Stories. This unique undertaking arose from Christy's HIS 150D (Japanese Empire) offering in the Winter quarter of 2011.
Summary of Project
The Gail Project is a collaborative, international public history project that explores the founding years of the American military occupation of Okinawa. The project is inspired by a collection of photos taken in Okinawa in 1952 by an American Army Captain: Charles Eugene Gail. The photos were generously donated to Special Collections at McHenry Library by Charles' daughter, Geri Gail, and have since been made available for student research.
Our team of faculty, artists and undergraduate students at the University of California, Santa Cruz, are developing a traveling exhibition of Gail's photographs with an accompanying digital archive that is comprised of the photos, key texts and documents, oral histories from both American and Okinawan voices, as well as undergraduate student research and writing. We believe that using the photographs as a lens through which to view this crucial time is relevant to populations throughout Okinawa, Japan, the United States and the entire Pacific region, and we aim to establish a dialogue by shedding light on both historical and contemporary issues.

The project emphasizes hands-on research and creation of content by undergraduate students and serves as an innovative platform for new educational methods that encourage the use of multimedia, social media, archival research and travel.
The Gail Project is directed by Professor Alan Christy of UC Santa Cruz, and Shelby Graham of the Sesnon Gallery.