2009-2010 Mentorship Participants
Leslie Harms is a transfer student from Cabrillo College, Aptos CA. Her major is Political Science, with a strong interest in international relations. Once she graduates from UC Santa Cruz, she plans on studying international relations, with an interest in human rights, in graduate school. Currently she is working as a waitress at the Miramar Seafood Grotto in Santa Cruz and is also the committee administrator for UCSC's pre-law society.
Roger Schoenman earned his Ph.D. from Columbia University in 2005 and holds an M.Sc. in Philosophy from the London School of Economics. He was a fellow at the Harriman Institute at Columbia University during the 2006-2007 academic year and a fellow of the American Council of Learned Societies in 2006. Since 2005, he has been assistant professor of politics at the University of California, Santa Cruz.
His current research explores the relationships emerging across post-communist Europe between business, parties and the state. He is also keenly interested in reconciliation after political transformations, state-building, the politics of memory, lobbying, legislative stability, the implications of small worlds for transitions, and the use of new technologies in political research, including machine assisted content analysis, computer assisted coding and social network analysis. He is also completing a book manuscript that explores the effects of different types of business networks and political party competition on state building in eleven post-communist countries.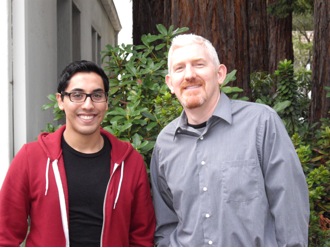 Leonardo De Haro is a first-generation college student, double majoring in Politics and Sociology. He is a student activist, becoming involved in various student organizations on-campus and fighting for the representation of students of color in higher education. He was last year's ORALE conference coordinator and has been an active member of the GENTE conference committee for the past two years. He has recently returned from spending a quarter in Washington D.C. where he interned for the Coalition for Juvenile Justice. Leonardo will be graduating in the Spring and will be applying for fellowships for next year while planning to pursue a law degree in the near future.
Kent Eaton is Professor of Politics and Director of the Center for Global, International and Regional Studies (CGIRS) at the University of California, Santa Cruz. His latest book is entitled Politics beyond the Capital: The Design of Subnational Institutions in South America. His articles on subnational politics, decentralization and federalism have appeared in Comparative Politics, Latin American Research Review, Politics and Society, Security Studies and World Politics.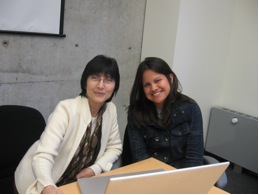 Monica Reyes is privileged to be born from Hispanic parents from Guatemala and El Salvador. She is the oldest of four children, and was born in Miami, FL where her family lived for many years. Later they moved to Southern California where her family resides today. This is now her fourth year at UCSC, and she is majoring in Art. Among the many things she has discovered at UCSC is her passion for Hispanic children and painting. In order to improve her Spanish skills, she took Spanish courses at UCSC. Once she completes her Bachelor's Degree in Art, she hopes to be a missionary in a Spanish speaking country, spreading the Gospel of Jesus and leading children to discover their own talents.
María Victoria González Pagani, a native of Argentina, is a Senior SOE Lecturer in the Language Program at UCSC. She is the co-author of Tradición y cambio: Lecturas sobre la cultura latinoamericana contemporánea, an upper division Spanish textbook published by McGraw Hill, and Al corriente, a second year Spanish textbook, also published by McGraw Hill. She is also the author of several distance learning online Spanish courses such as Donde quiera, cuando quiera (AP Spanish Language) and Spanish without Walls. She is presently working on a new textbook and website on Humor in the Spanish speaking world.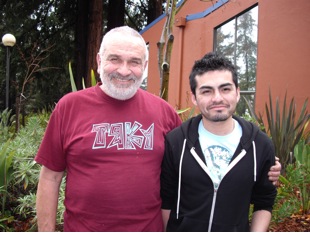 Edgar Hernandez is originally from the San Joaquin Valley and is a Latin American studies major. He has an interest in global political economy and resource distribution, government accountability, as well as sustainable practices. Besides that he is interested in different methods of human expression through art. He plans to get his doctorate in Urban and Regional planning. His interest in planning, political economy, and accountability stems from his experiences in his community. There he learned about a lack of city, state, and national representation as well as a lack of resources available to the poorest in the community. Moreover, he wants to study about the economic and political structures that exist in his community to see what alternative avenues are available.
John Borrego is a Professor in the Latin American and Latino Studies Department. He has been a Merrill Fellow since 1974. He received his PhD in Architecture from UC Berkeley. His areas of research are global political economy, national development, urban and regional planning, community organizing, social change, ethnic minorities, Mexico and the Southwest. The courses he teaches are: Global Capitalism and Community Restructuring, Voices from the Watsonville Community, and Global Political Economy. His publications include: Space Grid Structures: Skeletal and Stressed Skin Structures (1968), Co-author of La Inserción de México en la Cuenca del Pacífico (1990), Co-editor of Capital, The States and Late Industrialization: Comparative Perspectives on the Pacific Rim (1996).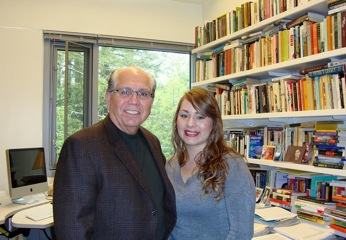 Christine Reyes is a fourth-year senior majoring in History with a concentration on the Americas and a minor in Italian Studies. Christine was a Merrill College Peer Advisor her sophomore year, 2007-2008. She studied abroad for an entire year at the University of Bologna, Italy through EAP for her junior year, which allowed her to become fluent in Italian. She would like to someday pursue a Master's degree in Italian Studies so that she may become a translator or language instructor. Christine likes to travel so teaching abroad is also a goal she would like to pursue. Currently she is searching for a post-graduate internship or work opportunities in education, such as Teach for America. She would also like to teach English or U.S. History at the high school level.
Pedro Castillo is Associate Professor of History. He received his PhD in History from the University of California, Santa Barbara. He is the co-author of Mexico en Los Angeles (published in Mexico in 1990), An Illustrated History of Mexican Los Angeles, 1781-1985 (1986), and The American Nation (2000). Dr. Castillo was provost of Oakes College from 2002 to 2008. His teaching and research interests include: Chicano/a History, Race and gender in California History, comparative immigration, U.S social/cultural history, and U.S.-Mexico globalization. His current research project is on the comparative history of changing electoral practices in two rural California communities: Watsonville and Salinas. The move from at-large to district elections in both of these communities increased the political power of Latinos and changed the political landscape of these cities. This comparative analysis begins in the 1980's and continues to the present.