2011-2012 Mentorship Participants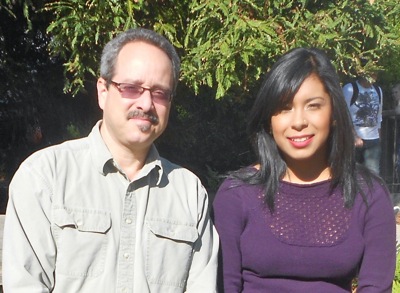 Nidia Bautista, originally from Boyle Heights, CA  is a senior at UCSC double majoring in Politics and Latin American and Latino Studies. She recently studied abroad at the National Autonomous University of Mexico and has also worked as the national office intern for the Committee in Solidarity with the People of El Salvador (CISPES) while studying at the University of California Washington DC Center.   Nidia is also a recipient of the Joel Frankel Undergraduate Research Scholarship which awarded funding to conduct field research in El Salvador.  Some of her research interests include transnational social movements in Latin America and popular movements and political change in Mexico.

Jonathan Fox is Professor and Chair in the Department of Latin American and Latino Studies at UCSC. He has taught at UCSC since 1996, and previously served as chair when the LALS program became a department in 2001. He is also a research affiliate of UCSC's Chican0-Latino Research Center, and the Center for Collaborative Research for an Equitable California. His research interests include transparency and accountability, transnational civil society dynamics, and Latino youth civic and political participation. His current empirical research focuses on Mexico and central California.  His teaching focuses on political participation and social change, including interdisciplinary courses on Mexico, social science concepts and methods, and transnational civil society.
Summary of Project

Nidia will help with research on three on-going projects, one involves the process of citizenship for legal permanent residents (comparing variation across counties and national origin groups). The second project involves developing research methods for monitoring Mexican government policies that affect the relationship between migration and development. The third project involves research on political and civic participation among Latino youth in Monterey. Each project will allow Nidia to develop different research skills (quantitative analysis, policy analysis and interviewing, for each of the three respective projects).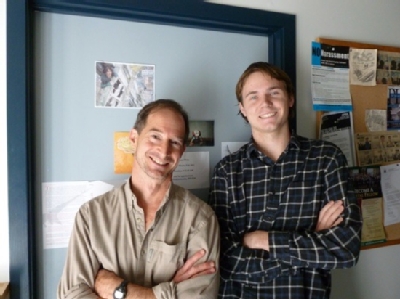 Nick Draper is from San Jose.  He is a fourth year student in Politics, minoring in Sociology. His interests are U.S. politics, especially how institutional politics can impact policy. He has been involved with the College Democrats at UCSC, working to get young people more involved and informed about Democratic politics. Following graduation he would like to work towards changing the functional way our political institutions operate to make them more effective, democratic and responsive. He also has a strong interest in writing about and working on policy in a research capacity, especially in the areas of defense, social welfare, and taxes. 
Daniel Wirls is professor of Politics. He has been at UCSC since 1988 and served as chair of the department from 2005-2010.  He has published three books, including his most recent, "Irrational Security:  The Politics of Defense from Reagan to Obama" (Johns Hopkins University Press, 2010), as well as articles and chapters on a wide variety of aspects of American government and political history.
Summary of Project
"National Security as a Policy Arena" investigates compares the politics of military policy to other types of policies.  Is military policy more about international relations or can it be understood in the same way as various forms of domestic policies such as welfare, healthcare, education, or energy?  This project explores the ways that the politics of military policy is comparable to and different from the politics of other policy arenas. The work involved will be bibliographic (locating and organizing secondary literature) and empirical (beginning the construction of a data set on congressional votes on military policy compared to other types of policy).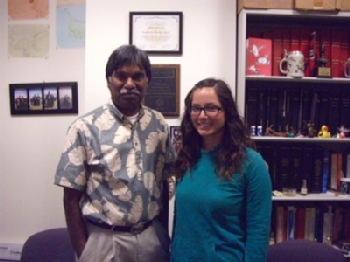 Naomi Gould is from Sacramento, California and is a fourth year graduating in June with a B.S. in Chemistry. Her interests include chemistry, art, dance, medicine, and fashion. . She has been influenced primarily by her family, and their interest in helping others, and by Dr. Singaram and his passion for chemistry. After graduating, Naomi intends to go to medical school in hopes of becoming a pediatrician, and one day opening up her own non profit medical practice in order to provide medical care to those less fortunate.
Bakthan Singaram earned his Ph.D. at the University of Madras, Tamil Nadu, India.  His teaching and research focus on Organic synthesis, organoborane chemistry, heterocyclic chemistry, organometallic chemistry, asymmetric synthesis, biosensors, and natural products chemistry.  One aspect of Dr. Singaram's research involves the development of an optical glucose sensor. Diabetes Mellitus continues to debilitate millions of people worldwide. Although there is no cure for the disease, there are effective ways to manage it. One of the most important ways, involves the monitoring of the blood-glucose levels. Currently, diabetics prick their finger and test the blood three to four times a day. Because glucose levels fluctuate drastically throughout the day, an accurate measure of blood-glucose is difficult. A continuous glucose monitor would thus be of great interest. Research in this area includes the utilization of organoboranes for the development of novel fluorescent chemosensors.
Summary of Project
Naomi will be working with Dr. Singaram to generate several new organic reactions. She will be doing research and attempting to generate an amineborohydride using methylmagnesuimchloride or diisopropyl Grignard. She will then carry out a reduction of Wienreb amides using hydridemagnesium chloride produced in the reaction of methylmagnesium chloride with pinacol borane. She also will work on a Grignard reaction with Pin2B2 trying to create a new way to generate boronic acids. These reactions are precursors to many pharmaceutical drugs, and can open the door for other scientists to generate boronic acids and Wienreb reductions in an easier, more efficient way than ever before. Naomi will be getting hands-on experience working in an organic lab, and will learn new lab techniques as well as how to write and submit scientific papers, and give scientific presentations.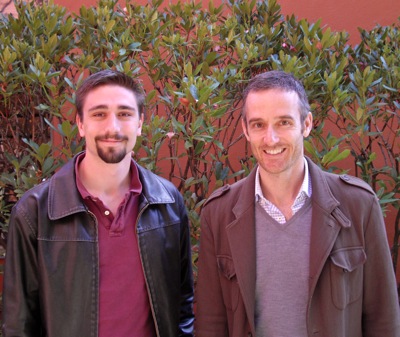 Berkeley Hirsch is a fourth year European History and International Politics double major.  His primary interests are in Eastern European history and post-Soviet political systems.  In addition to his major fields of study, Berkeley is also learning Russian and participated in EAP's 2010 Moscow Program.  He is currently researching a thesis for his Politics degree which will be exploring issues related to increases in Russia's Muslim demographic and the political discourse which accompanies this shift.  His post-college plans include pursuing work in the Federal government related to the formation and implementation of American foreign policy in Eastern Europe and Russia.
Roger Schoenman earned his Ph.D. from Columbia University in 2005 and holds an M.Sc. in Philosophy from the London School of Economics. He was a fellow at the Harriman Institute at Columbia University during the 2006-2007 academic year and a fellow of the American Council of Learned Societies in 2006. Since 2005, he has been assistant professor of politics at the University of California, Santa Cruz. Prof. Schoenman's work explores the varieties of capitalism the post-socialist countries. Recent publications investigate the impact of party-competition on the politicization of the economy and institutional development. He has recently completed a manuscript, tentatively titled Networks, Uncertainty and Institution-Building in Europe's Emerging Markets (forthcoming, Cambridge University Press), that examines the impact of party systems and cleavages, business-elite origins, and the structure of business networks on institutional development in the evolving market democracies of the post-socialist area.
Summary of Project
Berkeley will work broadly on two tasks. First, he and Prof. Schoenman will explore the existing literature on police reform and civil military relations. This is a scant literature, particularly with regard to the post-socialist area, and they will consider other areas that present similar challenges in order to find more relevant materials, such as a literature on civilian control of the military in Latin America. Berkeley will produce a literature review under his mentor's guidance.
Secondly, Berkeley will expand the partial set of case studies that Prof. Schoenman has already written of the efforts to introduce civilian control of the security police in 10-12 countries in the Baltic states, Eastern Europe and the Balkans after doing historical research about each country. He has some language skills that will allow him to read news. Many of the key reports and documents are available in English. Ultimately, they hope to develop a set of criteria on which to score and compare the development of institutions present in each country. I plan to guide him through the research portion of the project and work very closely with Berkeley on the development of these criteria and the final stage of the project: identifying the factors that explain greater success in the development of institutions that scrutinize the activities of the police.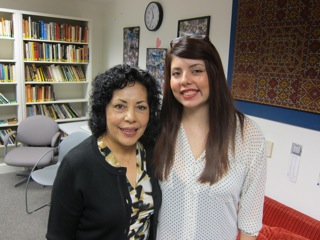 Lucy Rios is from Oakland, California, and is currently a fourth year student majoring in Anthropology. She is interested in examining the role of Mexican folklórico dance in both Mexico and the United States. Her interest in Mexican dance stems from observing folk dances in Jalisco and Michoacan during traditional ceremonies. For the past three years, Lucy has actively participated in Grupo Folklorico Los Mejicas de UCSC.  Upon completion of her BA, Lucy plans to pursue graduate studies in the field of medicine or anthropology.
Olga Nájera-Ramírez, Professor of Anthropology at the University of California, Santa Cruz, received her Ph.D. in Anthropology from the University of Texas, Austin.  As an anthropologist specializing in folklore, her work concentrates on documenting and critically examining expressive cultural forms such as festivals, dance, rodeo and music as practiced by Mexicans living in the United States and Mexico. In particular, she examine the ways in which expressive forms are invested with meaning, transmitted, experienced, and otherwise employed by members and non-members of a community. 
Author of La Fiesta de los Tastoanes: Critical Perspectives in a Mexican Festival Performance (1997), she has co-edited several transdisciplinary books including, Chicana Traditions: Continuity and Change (2002), Chicana Feminisms: A Critical Reader (2003), and Dancing Across Borders: Danzas y Bailes Mexicanos (2009).  She also produced the award-winning documentary La Charreada: Rodeo a la Mexicana.  In 2010, she completed a documentary titled Danza Folklorica Escénica: El Sello Arístico de Rafael Zamarripa (Mexican Folkloric Dance: Rafael Zamarripa's Artistic Trademark).
Summary of Project
This mentorship experience is designed to provide Lucy with a sense of the duties of a professional anthropologist. Lucy will work with professor Nájera-Ramirez on an annotated bibliography on the anthropology of dance.  She will also assist her in preparing a manuscript titled "Folklórico Dance & the Politics of Identity in a Transnational Context."  During the spring, Lucy will attend the annual meeting of the Latin American Studies Association.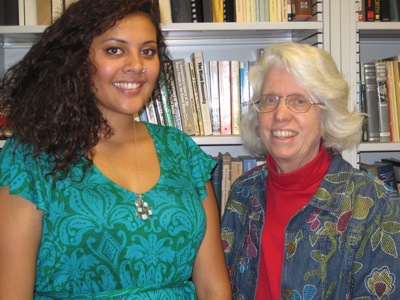 Lauren San Juan is senior sociology major with interests in gender, race and class. Her interests were especially shaped by her experiences including an exploration of her own mixed-race identity and family involvement in labor unions. In addition to serving as a Merrill College course assistant, studying in Brazil and working as a volunteer in a daycare center in the favelas of Rio de Janeiro, Lauren has taken many courses that prepare her for this Mentorship. After graduation and before entering graduate school, Lauren hopes to work with the Youth and Community Development Program in the Peace Corps.
Pamela Roby is a Professor of Sociology Emerita Recalled. A past president of Sociologists for Women in Society and the Society for the Study of Social Problems, she teaches seminars and courses on Feminist Research, Women and Work, Sociology of Learning and Re-evaluation Counseling. Over the thirty-eight years she has served as a UCSC faculty member, Pam has focused her research, articles and books on gender, race and class in relation to historical and current day policies, practices and changes in unions, education, the law, and the workplace.
Summary of Project
In this mentorship, Lauren will work with Pam on a project entitled A Governess' Story: The Letters, Work and Family of Joanna Young Scammon of Pittston, Maine, 1821-1892. It is based on 276 previously unpublished letters which Joanna and members of her well-known but not famous white, middle class family wrote from 1831-1896 as well as two diaries; newspaper articles; local histories and other contextual materials. The contextual materials, as well as the letters Joanna wrote and received, allow Lauren and Pam to explore the interaction of human agency and social forces in the life of this 19th century woman who worked as a governess and teacher in Maine and Florida.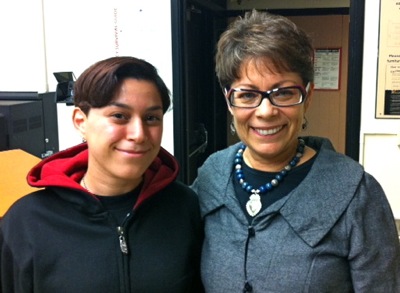 Susana Sepulveda is a fourth year transfer student from Los Angeles. She is majoring in Feminist Studies with a concentration in Culture, Power and Representation, and minoring in Latin American and Latino Studies.  Her interests include Feminism, transnational organizing, Ethnic Studies, human rights, race, gender and cultural production and representation. She hopes to proceed to graduate school and research Chicana/Latina identity and subjectivity through cultural production and representations, and become a professor of Women's Studies.
Rosa-Linda Fregoso is a former journalist from South Texas and a current Professor of Latin American & Latino Studies at UCSC. Her writing, research and teaching focus on gender violence, feminicide and human rights, social media, artivism and culture. Since 1998, she has lectured internationally and in the U.S. about the issue of feminicide. Her publications on the issue have appeared in journals and periodicals like Debate Feminista, Social Identities and Truthdig, in edited books such as Color of Violence: The Incite! Anthology, and in her award winning book, meXicana Encounters: The Making of Social Identities on the Borderlands (Berkeley: The University of California Press, 2003). Her other published books are: The Devil Never Sleeps and Other Films by Lourdes Portillo (Austin: The University of Texas Press, 2001); Miradas de Mujer, (co-edited with Norma Iglesias, CLRC & COLEF, 1998); and The Bronze Screen: Chicana and Chicano Film Culture (Minneapolis: The University of Minnesota Press, 1993). She received her doctorate from the University of California, San Diego in the Language, Society and Culture Program; and a Bachelor in Journalism from the University of Texas at Austin.
Summary of Project
Susana will be assisting with bibliographical research and the organization and classification of still-images for the project, The Art of Witness:  Reflective Essays and Cultural Critique.  This project examines the works "artivists" working in the genre of "interventionist art," and creating public art that aims to intervene in social justice campaigns and publicize human rights violations. The analysis focuses on cultural representations that deal with issues of gendered violence in Latin America.