2008-2009 Mentorship Participants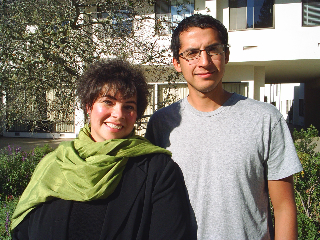 Eric Arce is a transfer student from the small California community of Mammoth Lakes. His major is Latin American and Latina/o Studies with a strong interest on immigration. Upon completion of his BA, he plans to study immigration law with a strong commitment to social justice. Currently, Eric works at the Watsonville Law Center which is a non-profit organization that provides free legal advice for low-income individuals.
Gabriela F. Arredondo is Director of the Chicano Latino Research Center and Associate Professor in the Latin American and Latina/o Studies Department. She received her Ph.D. from the University of Chicago, is the author of Mexican Chicago: Race, Identity and Nation, 1916-1939 (2008), and co-author of Chicana Feminisms: A Critical Reader (2003). Dr. Arredondo was a Faculty Research Fellow at the Center for Comparative Study of Race and Ethnicity at Stanford University in 2007-Ô08. Her teaching and research interests include comparative Latina/o histories, gender and racial formations, U.S./Mexico transnationalisms, comparative immigration, post-colonial Mexico, U.S. social history, and Chicana/o history. Her current research project explores a variety of inter-racial contacts between Mexicans and non-Mexicans in order to understand how such experiences contributed to contemporary conceptions of race and gender. This comparative project grounded in the 1920s and 1930s, will include several sites including Chicago (U.S.), Guanajuato (Mexico), Michoacan (Mexico) and San Francisco (U.S.).
Eric will be helping Professor Arredondo with library research and compilation of an annotated bibliography of recent publications on miscegenation/race-mixing/inter-racialism. He will also be helping her to research legal codes in Mexico during the early 20th century related to race-mixing or inter-racialism. A secondary project is related to the history of Latinos at UCSC doing research on legal cases brought against the university by Chicanos in the early 1970s. Eric will likely learn how to set up, prepare questions, and conduct oral histories and interviews.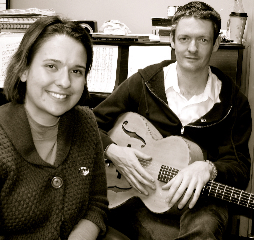 Ashley Craig majored in Cultural Anthropology here at U.C. Santa Cruz with a focus on visual and environmental Anthropology. Inside and outside of the classroom, Ashley has broadened her skills as a documentarian by taking courses in community studies, visual anthropology, multi-media ethnography, independent studies in web-design and social photography.  Ashley has created a number of multi-media projects, including "A Fishy Tale" a retelling of a local fishermen's explanation on the depleting fish populations in the Monterey Bay as well as "The 1.5 Project" depicting a local activist struggle to feed the homeless population in Santa Cruz county. In her senior thesis, Ashley analyzed the political ecology of marine protected areas, with particular focus on The Nature ConservancyÕs bottom trawl-buyback in Morro Bay, CA (2008). 
Benjamin Carson's work as a composer is supported by a variety of theory and research, including work in both critical gender studies and cognitive science. His music has been performed at local and international festivals. His writing is published in a variety of areas, including the American Journal of Psychology, the Journal of New Music Research, the "Feminist Provocations" series of the Institute for Advanced Feminist Research, and the OPEN SPACE magazine of new music and art.
In 2003, Dr. Carson joined the department of music at UC Santa Cruz, as an assistant professor of theory and composition. He teaches in the DMA program in Composition, the MFA program in Digital Arts and New Media, and as an affiliate of the Department of American Studies.
Ashley Craig and Ben Carson are working on part of one of Dr. Carson's large research endeavors, currently titled "Intercompositional Rhythm." At present, the project includes "Takes to the Stage", a conceptual solo work for cello commissioned by the internationally acclaimed cellist/scholar Franklin Cox, and "A is for Azimuth and Arnica", a solo work for percussion commissioned by SFSound percussionist Christopher Froh.
Ashley and Ben have begun production and editing on an hour-long film titled "Takes to the Stage", which is an audio-visual experiment in form and memory, drawing on aspects of the cello piece of the same name. The film documents Franklin Cox's premier of the cello work at the "April in Santa Cruz" festival, 2007. It will include animation sequences that are correlated with structures of memory and musical idea in the "large-scale" form of the algorithmic concert.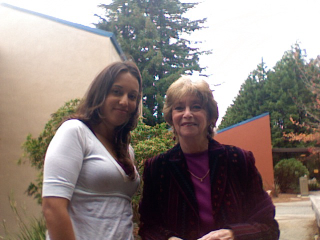 Angela Pena is a double major in Sociology and LALS (Latin America and Latino Studies). Her research and study interests are closely related to her cultural and political background. She was born in Colombia and moved to the U.S. ten years ago as a political asylee. Therefore, her interests are a reflection of personal interests such as migration, immigration, culture and race, and the Latino/a experience in the U.S. She plans to pursue a doctoral degree in Sociology, with an emphasis on Latin American and Latino studies. For these reasons, she is benefiting greatly from the Merrill Undergraduate Mentorship, which has given her the opportunity to work with professor Susanne Jonas on her research, and to benefit from her immense experience in this mentorship.
As a Merrill Faculty Fellow, Susanne Jonas has been teaching Latin American & Latino Studies at UC Santa Cruz since the Fall of 1986. She has been an expert on Central America, particularly Guatemala for 40 years. In the last 15 years, she has also become a specialist on migration both on general issues of immigration policy and citizenship, and on Central American migrant communities in the U.S. She is currently working with Nestor Rodriguez (Sociology, University of Texas) on a book on Guatemalan migration to the U.S. Angela's assistance through the Merrill Mentorship is invaluable, both for this book and for all of her teaching and research on migration (including her coordination of the "Latinos in California" Research Cluster of the Chicano/Latino Research Center).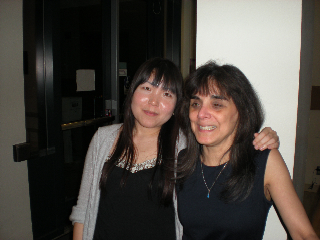 Yayoi Tran is majoring in Molecular, Cell, and Developmental Biology (MCDB). Upon her graduation from UCSC she intends to earn both Pharm. D. and Ph.D. degrees. Prior to coming to UCSC she was an opera singer in both Japan and Europe. Yayoi has been working in Dr. Martha Zuniga's laboratory in the MCDB Department since April '08, where she has worked on a project on immunological tolerance. Yayoi's studies have identified a population of immune system cells that enforce tolerance to transplanted tissues. These studies have important implications for transplantation medicine.
Martha Zuniga has been a faculty member at UCSC since 1990. She earned her B.A. in Zoology from the University of Texas at Austin and M. Phil. and Ph.D. degrees in Biology from Yale University. She did postdoctoral research in Immunology at Yale University School of Medicine and the California Institute of Technology. Prior to coming to UCSC she was a faculty member at her alma mater, the University of Texas at Austin. In recognition of her teaching and research Professor Zuniga was a recipient of the National Science Foundation Presidential Young Investigator Award. Her research focuses on various aspects of immune regulation and on the immune system of the skin and has an ongoing collaboration with a local dermatologist.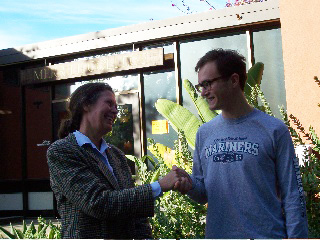 Reeve Tyndall has worked with Judith Harris-Frisk as a student assistant to the Merrill Core course for three years where his double major in economics and history informs his contribution to the course. Reeve will be applying to graduate school this year and wishes to undertake scholarly research in divestment. In addition to helping create bibliographies for early twentieth century German history, Reeve is also currently helping to develop individual folders for the Merrill core texts: bibliographies, copies of articles, chronologies, maps and country profiles.
Judith Harris-Frisk has taught in the Merrill Core course since 1994; she came to UCSC in 1987 with a specialization in Twentieth Century German literature and language. In a move to introduce original documents a to the study of German language and culture, Harris-Frisk recently obtained a systemwide grant to help establish a database of language materials for Germanists throughout UC. With the assistance of Reeve, she has undertaken a compilation of experimental German cultural materials from the 1920's that will be made digitally available this year. In addition to her interests in the Weimar period, she dedicates most of Fall quarter to teaching Merrill freshmen how to become successful writers of academic essays.
Helen Yamamoto is a student of Merrill College majoring in history with a minor in astrophysics. She has participated in a number of school activities and programs, the Merrill Frosh Scholars Program, an internship with the Department of Justice through UCDC, an officer position in UCSC's mock trial team, an orientation leader with Merrill College, and a reader for the math department. Although she is starting her third year, she is planning on graduating this upcoming spring. Upon graduating, Helen plans on going to law school where she would like to study intellectual property law, although she is also interested in pursuing a PhD in the history of science. When she is not working or doing research, she spends time playing video games and watching sci-fi, although she does enjoy the occasional hike around the UCSC campus or near one of Santa Cruz's beaches.
Minghui Hu did his graduate work at Virginia Tech and UCLA and earned his Ph.D. from UCLA in 2004. Before his departure from Los Angeles, he taught at UC Irvine for a year. He then went to Chicago to serve as a Mellon postdoctoral fellow at the University of Chicago from 2003 to 2005. He came to UC Santa Cruz in 2005 as an assistant professor in the History Department. He is currently working on his book manuscript: Science, Civility, and Politics: Dai Zhen and the Dawn of Modern Chinese Thought.
Although historians and scientists can explain recite the development of astronomy, the centerpiece of the beginning of modern science, in the West, the intellectual genealogy of the original contributors, such as Nicolaus Copernicus, Galileo Galilei, and Johannes Kepler, remain controversial. The goal of Helen Yamamoto and Minghui Hu's research is to trace the most updated literature in history of science and to revisit the roots of modern science. In particular, Helen will examine the Islamic contribution to the origins of modern science as well as the parallel development in ancient China to highlight the foundational character of modern science. The works and sources of this project include two books written by Thomas S. Kuhn and George Saliba and a recent French translation and commentary of ancient Chinese mathematical treatise Les neuf Chapitres: Le Classique mathematique de la Chine ancienne et ses commentaires.
The research problem is: To what extent was Copernicus' opus magnum ("great work") drawn from Islamic spherical trigonometry? To what extent can we compare and contrast the level of trigonometry developed in both the Islamic and Chinese worlds? Helen's specific task, in collaboration with Professor Hu, is to analyze and critique Thomas S. Kuhn's The Copernican Revolution: Planetary Astronomy in the Development of Western Thought. She will also read and discuss George Saliba'sIslamic Science and the Making of the European Renaissance, which discusses scientific advances in astronomy in the Islamic world and their influence on the Copernican Revolution. Having read, critiqued, and analyzed both Kuhn's and Saliba's work, she will compose a comprehensive research paper discussing the strengths and weaknesses of both works while chronicling a general history of spherical trigonometry. To enhance our technical vocabulary, she will also consult W.M. Smart's Textbook on Spherical Astronomy.