UC Santa Cruz Davis Art Makers
The Davis Art Makers honors Bay Area abstract expressionist Jerrold Davis, who has longstanding ties with the UCSC community. It provides opportunities for students to experience and create visual or tactile art with the inspiration and facilitation of a working artist. A collaborative endeavor funded by donors, it is co-sponsored by Cowell, Stevenson, Crown, and Merrill Colleges to serve their students. Each year we will choose up to four DAM projects, to be sited at one or more of the sponsoring colleges, open to students from any of these colleges. We seek to provide opportunities for students with little previous exposure to art, those who may not have visited museums or had artworks in their homes, as well as those already enthusiastic about it, to engage with and create visual and tactile art.
Future events will be posted here as well as around Merrill College in the weeks before.
Signs for the upcoming event with artist Erika Perloff can be done here.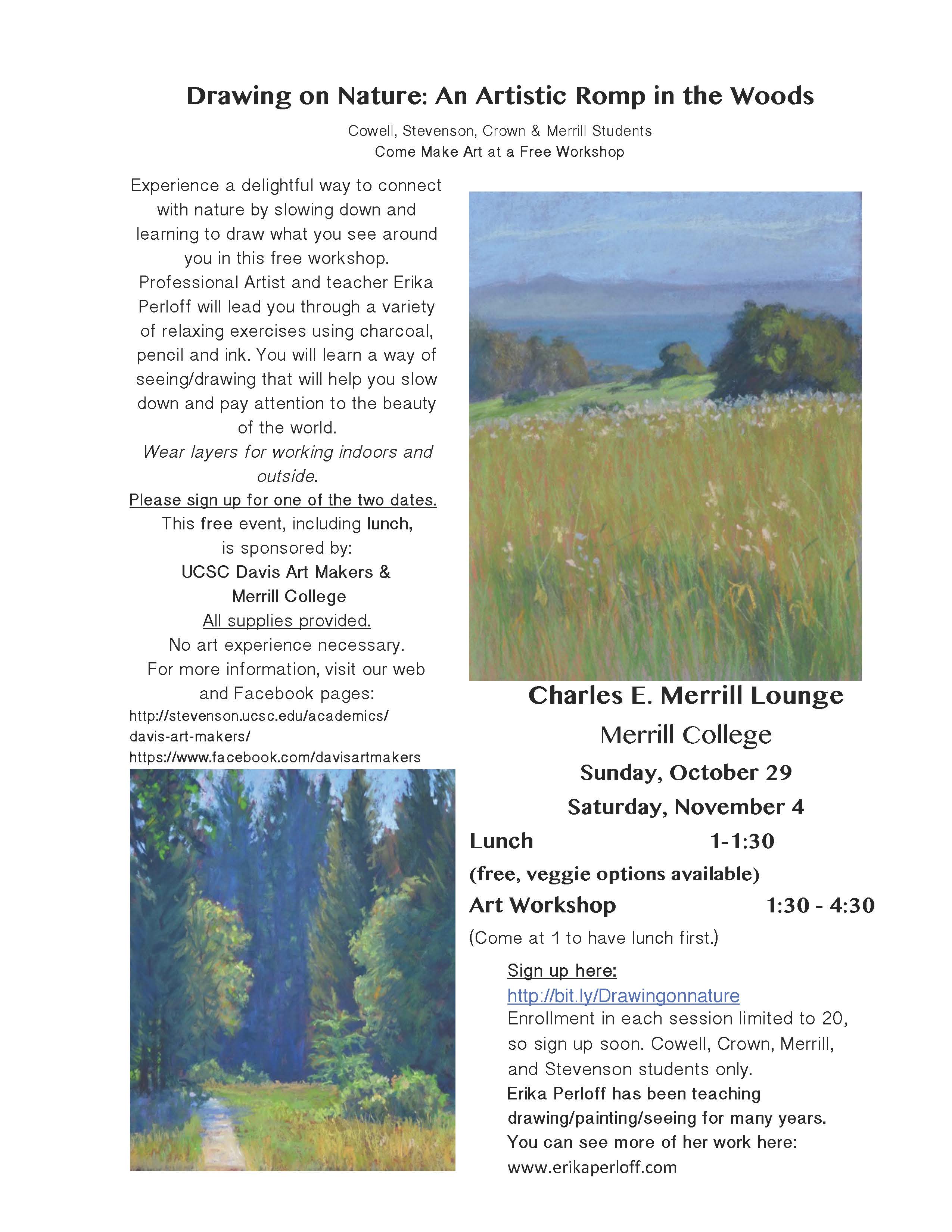 Professional Artist Proposal Information
Administration
:
The deadline for proposals this current cycle was

10/15/16.

 

Proposals will be sent

to the DAM Committee, C/O Frank Gravier (steering committee member), either emailed to

davisartmakers@gmail.com

or dropped off

at

Mc Henry Library Services Desk.

After projects have been received, they will be passed to Stevenson College Provost Alice Yang, who is coordinating with the provosts of the four colleges involved (Cowell, Stevenson, Crown, and Merrill). The provosts will evaluate the proposals for safety and major practical concerns for the colleges, and eliminate those they deem unsafe or unfeasible. They may, if they choose, also note favorites among the proposals, or rank them by interest and pass these preferences on to the steering committee, but this is optional and non-binding on the steering committee.

A steering/advisory committee will select projects on the basis of the criteria below, and send the proposed selections to the VPDUE for final approval. The steering committee will consist of at least 5 total members with interest or affiliation with UCSC, and consist of at least three non-students and two students. It will include two to four students from the affiliated colleges, ideally one from each. The students will be invited to join by committee members and/or provosts, based on their interest and availability. The committee currently includes Bill Dickinson, Frank Gravier, Catherine Carlstroem, Ann Gibb, Angie Christman, and student members Madeleine Garza (Stevenson), Aurora O'Greenfield (Cowell), Carrie Hoffman (Merrill). New committee members will be nominated by current members, and as reflected in the letter of gift for the Jerrold C. Davis Art Endowment, "at such point as Frank Gravier, Catherine Carlstroem, or Bill Dickinson do not wish or are unable to continue their service, it is the donor's wish that they each have the first right to recruit their successors to the committee." 

Any committee member with a close relationship to any artist submitting a proposal will disclose the relationship and recuse him/herself from voting on selections including that proposal.

The Stevenson provost, or another provost from one of the participating colleges appointed by the VPDUE, will authorize payment of the artist, in a stipend of approximately $1,250 per selected project (the exact amount may change based on the available funding each year, but is currently set at $1,250), and authorize either reimbursement or purchase orders for materials for the project, in amounts not to exceed $300. (This materials cost may also vary from year to year due to the DAM funds.) The

approximate

costs of the materials will have been laid out in the artists' proposals before approval. This representative will not have a conflict of interest by having a relationship to any artists that have submitted proposals.

DAM will provide:

publicity, in collaboration with the artist; a location; support for set-up and break down; and a fund of up to $300 for materials for students' projects. Artists will receive a stipend of approximately $1,250 per selected project.
Criteria for projects
:
DAM projects must center on students making art and should have a unifying theme or central purpose. Proposals will be chosen based on the committee's judgment of their ability to inspire, interest, and engage students in making art, with a particular concern for students with less exposure to fine arts. We will also consider the aesthetic and participatory appeal of the projects, their originality, topicality, fun, depth of meaning, and value as an introduction to the joys and enduring satisfactions of art as a means of expression.
We particularly encourage local (Santa Cruz and Northern California) and UCSC-affiliated artists to apply.
Proposals must include in this order:
A simple C.V. with contact info, any relevant experience, and either a link to or examples of art drawn from the artists' portfolio that familiarize us with the type of art they make.

A description/outline of the overall project

(including its medium(s), style, theme, or inspiration).

A brief (no more than a paragraph or two) discussion of goals or aspirations for it, and its significance or value.

A basic outline of logistical needs anticipated, (e.g., tables, type and size of space needed, materials you'll bring, etc.).

An estimated budget for necessary supplies, with approximate amounts of and costs for various items specified. This should not exceed the materials budget offered (maximum $300).

The artists' availability and preferred dates for the project.
Save
Save
Save
Save
Save
Save
Save
Save
Save
Save
Save
Save
Save
Save
Save
See
Also