Housing Application & Contract
Applying for University Housing
For questions or more comprehensive information on applying for University Housing be sure to visit housing.ucsc.edu.
In short, the application contains:
Ranking your top 5 college preferences. Students choosing "no preference" indicate they will accept any of the 10 colleges. While housing will attempt to place students in their number one preference, a specific college assignment or housing option is not guaranteed.
Filling out a lifestyle questionnaire. Please take the time to answer as accurately as possible; this is the section we look at when matching students with compatible roommates. Express yourself! Describe what music you listen to, your academic focus or extracurricular interests, hobbies, activities you enjoy.
All applications are read and processed by hand, and residents are matched by college staff. The more detailed and truthful students are with their applications the better our office can find the right match for you.
Once confirmed by the University the housing application becomes a legally-binding contract valid for the entire academic year. Be sure that you have read and fully understand the Terms and Conditions of residence before applying.
Updating the Housing Application
If you wish to change information in your application, please email our Housing Coordinator at crownmerrillhousing@ucsc.edu
Terms and Conditions
Many students living in the residential buildings make two important discoveries: first, they have more individual freedom than before; and second, the intense academic demands and shared living arrangements require more self-control and individual discipline than ever before.
It is our goal to provide a safe, secure and educational community for all residents, and as a resident of the university it is your responsibility to know the rules of both the college and the university.
For the most up-to-date Housing Contract go to housing.ucsc.edu.
Cancelling the Housing Contract
Prior to Taking Residence
If your plans change and you are unable to live in university housing you must return to Student Housing Online and cancel your application/contract.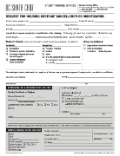 If a wait list application is cancelled prior to a space being assigned, the student will not be billed for any portion of the advance housing fee.
If a confirmed contract/reserved housing space is cancelled, the student will be billed for the advanced housing fee. Additional late cancellation fees may also apply (see section VIII for cancellation fee schedule).
After Taking Residence
Requests for housing contract cancellation will only be considered according to section VII. Students requesting to cancel their housing contract begin the process by submitting a Request for Housing Cancellation or Modification Form through their housing office. Moving out or turning in keys without official approval will not release you from your contractual obligation, and you will continue to be billed accordingly. Contact your Housing Coordinator for more information.
For more information about cancelling the housing contract please see the Terms and Conditions of the Housing Contract.
See
Also