Focus on Africa
The Focus on Africa series at Merrill College has a dual focus: on current affairs on the African continent, and on specific methodologies students can use to build viable constituencies for Africa on campus and in their home communities.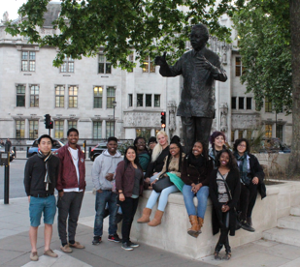 2015 Focus on Africa class by a Nelson Mandela statue in Parliament Square, London.
The Focus on Africa series was launched during the 2014 - 2015 academic year and is taught by documentary filmmaker Melvin Cox (Merrill, '73). Readings and projects completed via independent study in Fall 2014 and Winter 2015 provided the foundation for a successful journey to the continent during the Spring of 2015. Eleven students, from various backgrounds, visited London, Cape Town, and Dar es Salaam during a sixteen day sojourn. The year-long multidisciplinary course gave students the unique opportunity to serve as documentarians during the 2015 World Economic Forum on Africa (WEF-A) in Cape Town, South Africa. Students gained 'real world' experience in preparing scripts, shooting plans and storyboards that guided their work during a sixteen day, three nation journey. Focus on Africa participants were exposed to a variety of historically and culturally significant sites, institutions and programs in the greater London, Cape Town, Dar es Salaam and Stone Town (Zanzibar) areas. In preparation for this memorable experience, students conducted preliminary research on institutions and individuals playing leading roles in shaping the economic, cultural and political landscapes of contemporary Africa. The course focused upon issues related to Public Health, Media and Technology, Energy and Transportation.
Focus on Africa in the News.

Local youths at Sunrise Beach Resort - Mjimwema, Tanzania - June 2015

Raquel Chavez recording video footage - Sunrise Beach Resort - Mjimwema, Tanzania - June 2015

'Proudly African' - Heathrow Airport - London, UK - May 2015
Selina Sanchez Cristobal (Merrill College) - outskirts of Dar es Salaam - Tanzania - June 2015

Members of the Focus on Africa 'Pioneer Class' with Melvin Cox and Dr. Kimberly Helmer - Table Mountain Cable Station - Cape Town, South Africa - June 2015
Save
Save
Save
Save