Classroom Connection
Classroom Connection will not be offered Fall 2023 - - Stay tuned - - 
MERR 85B/C - Classroom Connection
Classroom Connection began in 1997 as part of the Merrill Honors Program, founded by former college provost John Isbister. The Classroom Connection Program has evolved in the years since into a vital community-oriented program. Classroom Connection is of enormous value to its beneficiaries: the students and teachers of Live Oak, Bay View, and Pescadero elementary, middle, and high schools, and the UCSC students who have come back year after year for the gratifying experience of working in the classrooms. 
A brief history of the program along with the already apparent successes of Classroom Connection published by Puente can be read here.
Participating UCSC students volunteer in an elementary, middle, or high school classroom two days each week, attend several course meetings, and receive two units of credit (three units for the Pescadero Program). School placements include activities such as one-on-one mentoring, developing and teaching a lesson, and giving general classroom assistance. Course meetings address current educational theory and practice through readings and discussion, and provide an outlet for students' observations and experiences in the classroom.
Important Enrollment  Information
Students enrolled in 85C are required to be TB Tested and finger printed prior to being placed/volunteer at local schools.
The course is graded Pass/No Pass only and students must complete 100% of placement hours and attend all course meetings to pass the class. Other requirements for a passing grade include: satisfactory teacher evaluation, punctuality and participation in course meetings, and completion of a final presentation or paper.
Classroom Connection has an open enrollment process for Merrill students. Students affiliated with other colleges should attend the first class session to express their interest in taking the course. First priority is given to Merrill students and returning participants, but we will do our best to accommodate everyone. 
| | |
| --- | --- |
| Merrill 85B | Merrill 85C |
| Takes place at either Pescadero elementary, middle or high school in Pescadero, CA. A van-pool is provided for the commute. | Takes place at either Bay View Elementary or Live Oak Elementary in Santa Cruz, CA. Transportation to and from the school is the student's responsibility. |
| Shifts are divided into sections in the morning (8:00AM-12:00PM) for elementary school aides* or afternoon (2:00PM-6:00PM) for middle school aides on Tuesdays & Thursdays. | Scheduled times to come in are more flexible with the student's particular class schedule. Ideally, the student will come as a teacher's aide at least twice a week for a few hours. |
| Minimum of 45 classroom hours logged (including commute time to and from Pescadero). | Minimum of 30 classroom hours logged. |
| Worth 3 units. | Worth 2 units. |
| *Fluency in Spanish required for elementary school aides. | No language requirement. |
| Enrollment by permission code only. | Open enrollment for Merrill-affiliated students. |
For any questions, contact the classroom connection coordinator at classroomconnection@ucsc.edu
----------
Each year, the Pescadero Middle School students come to UCSC for a field trip. In Winter 2016, they took a trip the Seymour Center at UCSC.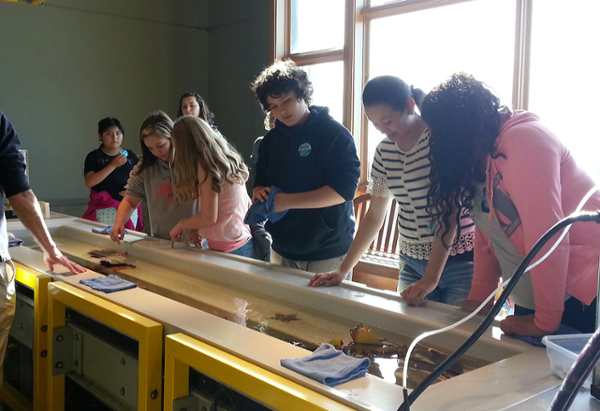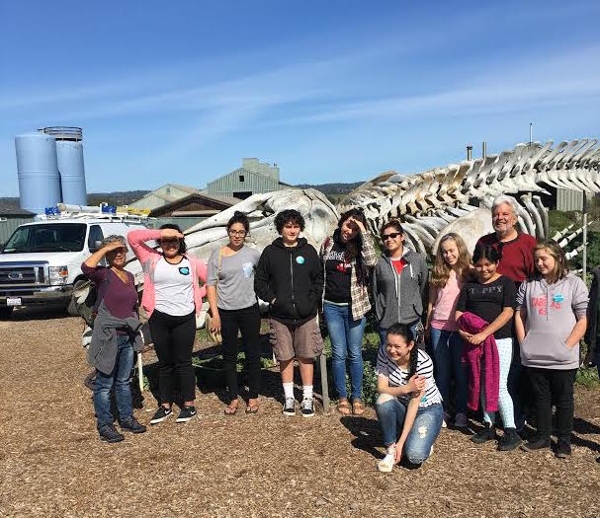 Save
Save
Save
Save
Save
Save
Save
Save
Save