Successful Student Research Proposals
2015 - 2016

Examining Cultural Food Ways and Good Health
Merrill student Riri Shibata drafted the following research proposal as a final part of her participation in the Challenge Program with Professor of Anthropology Nancy Chen. The purpose of this research is to identify the significance of cultural food practices in maintaining experiences of good health. In order to investigate the significance that traditional cultural food practices have on facilitating (or hindering) good health, this study will compare the food habits (or cultural food practices) in two different countries. For this analysis, I will conduct research in Okinawa, a prefecture in Japan that is known for its diet and longevity, as well as in San Diego, a city in Southern California that is known for its diversity within its population and its constant shifts within its attitude towards its diet. By identifying the significance of cultural food practices in seniors (65 years and older) in Okinawa and San Diego, I hope to understand how subsequent generations modify eating habits within their own cultural traditions.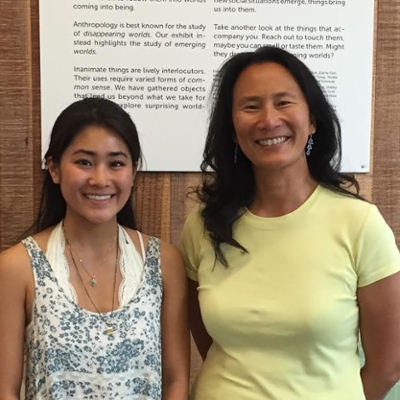 Riri Shibata is a second year double major in Legal Studies and Environmental Studies with a concentration in Agroecology and Sustainable Agriculture. Born in Tokyo, Japan and raised in San Diego, CA by Japanese parents, Riri has developed interest in Japanese and American culture. Her involvement in the Challenge Program has allowed her to explore her interests by researching more specifically into the cultural traditions that reflect consumption and foodways in both countries. In addition to her research focus, Riri's majors have influenced her to participate in an internship at the Santa Cruz City Hall and at a non-profit environmental education program. She hopes to use these experiences to conduct more research in the future on traditional and cultural eating practices that account for the economic, environmental, political, and health issues in different countries.
Nancy Chen is Professor of Anthropology with her current research focusing on genetically engineered foods and nutriceuticals to explore new boundaries of taste, consumption, and health. She is especially fascinated with rice as an object of transformative technologies and as an enduring marker of prosperity in much of the world. She addresses this research in her co-edited volume Asian Biotech: Ethics and Communities of Fate (Duke 2010), which examines formations of biotechnology and pharmaceutical industries across Asia. Nancy regularly teaches on the anthropology of food and shifting formations of food and medicine based on research for Food, Medicine, and the Quest for Good Health (Columbia 2009). As a medical anthropologist, she focuses on healing practices and health institutions. Her early ethnographic project compared how psychiatry and mental health become national agendas for social integration in Asia while, simultaneously, alternative forms of healing resurged. She has conducted fieldwork in mainland China, primarily, with comparative research in the United States. Her interests include the study of healing narratives, chronic and infectious diseases, traditional medical knowledge, and intersections between the body politic, gender, ethnicity, and medicine. Chen's recent research examines the role of biotechnology and the pharmaceutical industries in Asian societies. She regularly teaches on the anthropology of food and focuses on changing meanings of food and medicine.
Genetic Sequencing and Computational Methods
Kresge student Jackie Roger worked with Dr. Mark Akeson to craft a research proposal about testing the MinION device, a DNA-sequencing device developed by a team of researchers including Dr. Akeson. Jackie requested $73.79 to cover the cost of the book "RNA-seq Data Analysis: A Practical Approach" by Eija Korpelainen in order to learn more about genetic sequencing and the computational methods associated with it. Jackie currently interns with Dr. Akeson's lab and along with a handful of other people, is working on a project geared towards testing the capabilities and limitations of the MinION device. They are sequencing DNA that codes for HIV-identifying antibodies in mice. This is an already established sequence within the larger scientific community, but the purpose of this initial testing is to see how well the device replicates historical data so as to ascertain the accuracy of the device. After this context is developed, the device then can be used to try sequence DNA that codes for HIV-neutralizing antibodies (which is not an already established sequence), which could potentially translate into knowing what is needed to neutralize (or cure) HIV in humans. Jackie's role in this project is on the computational end, and involves using computer software to analyze and interpret the data generated from the device. This is where the book on data analysis of genetic sequencing comes in handy.